American Stage Instrument Cables
American Stage Instrument Cables are built from the ground up to ensure that nothing comes between you and your tone. The custom design reproduces full lows and rich highs, accurately transferring your tone with clarity and noise-free operation.
The in line solder process utilizes modern micro-flame technology and specially formulated RoHS compliant solder to create a permanent bond between wire and connector for unsurpassed strain relief and durability.
The connectors are designed to exacting specifications and are built with confidence by Neutrik in their state-of-the-art facility using the highest quality components available, and the innovative patented GeoTip provides a seamless and secure connection between your guitar and amplifier.
It all adds up to tone: the best materials, customized design, and precision manufacturing combine to deliver a truly unique, professional performance cable.
Momentary "Kill Switch" allows you to change an instrument live without fear of speaker popping or having to lower your stage volume.
Designed to reproduce the natural tones of your instrument with zero interference and oxygen-free copper conductor provides exceptional signal transfer.
Built in momentary "kill switch" for silent Instrument changes
Patented Geo-tip design ensures a secure connection in any instrument, pedal or amp jack
In-line soldering technology provides a superior connection and powerful strain relief
Chuck style cable clamp further improves strain relief
Available lengths: 10′, 15′ and 20′
---
Custom Series Instrument Cables
Custom Series cables utilize ultra-pure, oxygen-free copper conductors for low capacitance and pure tone. Encapsulated and impenetrable soldering points with double-molded strain relief provide maximum durability and worry-free reliability. Two layers of shielding provide 100% coverage for superior insulation and noise rejection, making this the ultimate, high-performance cable.
Gold-plated plugs ensure reliable, corrosion-resistant contact
Exclusive D'Addario overmolded connectors provide extra protection with unmatched strain relief
Special double-insulated/double shielded cable design provides the cleanest signal available while eliminating hum and triboelectric noise
Custom Series Circuit Breaker Cables
The Circuit Breaker plug includes a momentary killswitch, allowing noise-free live instrument changes even at blaring concert volume.
Custom Series Microphone Cables
Oxygen-free conductors with gold-plated plugs and ultra-pure twisted pair configuration ensure totally pure sound and unrivaled noise rejection.
Custom Series Speaker Cables
Custom Series Speaker Cables utilize ultra-fine, stranded, premium-quality 14AWG copper conductors for maximum signal transfer and flexibility.
---
Classic Series Instrument Cables
Classic Series Instrument Cables utilize ultra-pure, oxygen-free copper conductors for low capacitance and pure tone. A single-molded strain relief plug provides durability and worry-free reliability. The 90% spiral shielding eliminates virtually all handling noise.
Special coxial cable design provides extra-clean signal and low capacitance.
Molded connectors provide extra protection over ordinary plugs.
Patch cables have low capacitance cable design with dense copper shield and are perfect for use with effect pedals.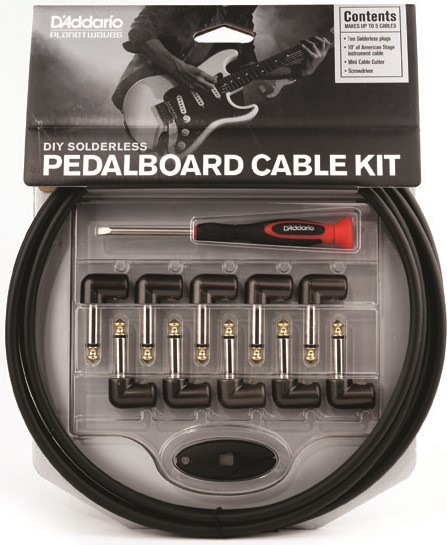 DIY Solderless Pedalboard Cable Kit
Custom cut cable to suit your pedal board's layout. The plugs and cables in this kit are specially designed for quick and reliable assembly. Just measure, cut, screw, and you're done.
This solderless cable kit is the ultimate solution for custom wiring pedal boards, rack gear, and your entire layout from guitar to amp. Say goodbye to messy, unreliable wiring and say hello to custom cut cable lengths that perfectly suit your needs, with plugs and cables that provide the most accurate and reliable sound reproduction, from guitar to amp, and all points in between.
Includes 10 ft. of cable, 10 right-angled 1/4″ plugs
Solderless plugs connect to cable in seconds, creating exact, required lengths easily
24k gold-plated plugs for improved signal flow and corrosion resistance
Cable features a 24-gauge oxygen-free copper conductor in a low capacitance design with two layers of impenetrable shielding
Includes mini cable cutter and screwdriver